It was just another ordinary day - Tafkav went out together to see the movie "Galaxy Quest" ... so much nothing to worry about.The really "disturbing" part happened afterwards .. when Moogie casually mentioned that she had already bought some grey and red fabrics and was seriously thinking about getting a Galaxy Quest uniform done for Fed Con 8 (2000).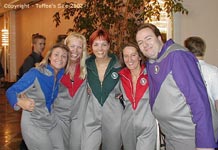 Needless to say, we decided that there was absolutely *no way* that we would let Moogie go along alone with this idea ... so 6 weeks before Fed Con 8, Tafkav decided to show up in Galacy Quest outfits at this upcoming event ... 4 weeks prior to Fed Con 8 we set up a "Galaxy Quest weekend" - which ended up in one major sewing session that lasted from Saturday around noon until Sunday morning around 5:30 am (No need to tell me we're crazy ... we already know that!! <bg>). We got about 3 or 4 hours of sleep and then continued working on the uniforms until Sunday late afternoon... Definitely one of the weirdest (and most exhausting) projects we've ever done... but we made it ...

I found the following two pictures on the internet - unfortunately, I can't remember the URL of the site - if you you own these pix or know where the originally come from, *please* get in touch with me as Tafkav would love to get reprints of these photos, re. use better scans of them for this site!!